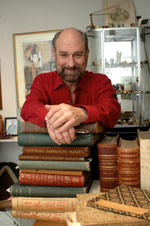 Welcome!
Thank you for visiting our home page and I look forward to hearing from you. In the mean time, we wish you the very best pleasures of netsuke collecting and study.
Norman L. Sandfield

Ichiro: Master Netsuke Carver
by Norman L. Sandfield and Huey G. Shelton
101 pages, 100 color illustrations of more than 150 netsuke, okimono, and ojime by the popular 20th century netsuke artist Ichiro Inada. Ichiro: Master Netsuke Carver is one of the very few books dedicated to the work of a single netsuke artist.
Top Reasons to contact Norman L. Sandfield for all of your netsuke needs.
Choose from our varied selection of fine antique and contemporary netsuke in many price ranges. We do not have a catalog, but you can call or email to describe your needs (subjects, artists, schools, materials, etc.), or you can make an appointment to visit us when you are in the Chicago area.
We have some unusual antique Chinese toggles, and are one of the few sources for these netsuke ancestors.
We buy fine netsuke and related items. Please send photos and descriptions of items you may have for sale.
We have some lacquer inro, for the knowledgeable collector, as well as some unusual related Orientalia.
We have ojime to match your netsuke and inro suite needs; and for you or your special friend to wear as a stand-alone pendant on our . . .
Ojime Miseru™, in either 14 karat gold or sterling silver. This is an easy to install (and easy to remove) adapter to make almost any ojime into a beautiful pendant, without damaging the ojime.
Inro Cord: I am very proud to offer you what is probably the largest selection of authentic Japanese inro cord outside of Japan. We have a variety of colors, styles, and thicknesses, in both hand-woven Japanese silk cord and machine-woven Japanese cord.
Our Inro Knot booklet, at $5, teaches you how to tie a variety of inro knots, with clear, easy to follow drawings.
The "Cheat Sheet", at $2, is a guide to 102 of the most common and important Japanese characters found in netsuke signatures.
Membership in the International Netsuke Society is a must for all netsuke collectors. Included in your membership is a subscription to the full-color illustrated quarterly Journals, which are very educational and enlightening. You can now join online with the Membership form available at www.netsuke.org under Join Us, or write to: International Netsuke Society / P.O. Box 223218 / Hollywood, FL 33022 / USA.
I will see you on the Internet.